"T-shirt Bob" Morris – owner/operator – since the beginning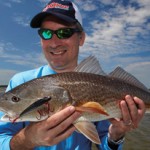 As the company's chief "paper pusher", Bob oversees the office and art department using his experience, organizational skill, and an eye for detail to insure orders correctly begin their journey through our process.  He is married to Latrelle and they have a son named Bobby.
Outside of work, T-shirt Bob stays involved in his favorite hobbies – surfing and fishing.  He is a past champion of the National Scholastic Surfing Association's Carolina district and has been a top placer and winner in several east coast contests from North Carolina to Florida.  He is a founder, past president, and champion of the Florida Lure Anglers fishing club and has in excess of 100k of winnings as a professional inshore saltwater fisherman.  He is a member of Community Presbyterian Church and resides in Neptune Beach, FL.
Shawn Riley – owner/operator – since the beginning
Shawn started a successful business – S. Riley Screenprinting fresh out of high school and hasn't looked back since.  He uses his vast amount of experience in all facets of screenprint operations to manage our production staff – insuring an average of 300 jobs per month are delivered on deadline.  He is married to Jennifer and their sons are Nathan and Evan.
A work hard/play hard philosophy governs Shawn's life – he runs full bore during peak seasons and when work slows down he prefers to unwind by leaving the country.  Being an avid surfer, he typically finds his way to some of the best breaks of the Caribbean and Central America and has also been known to hit the slopes with his snowboard.  Shawn is one of the only true "beach locals" as he was born in Jacksonville Beach and still resides there.
Willy Beeman – embroidery operations manager/purchasing manager – est. 2004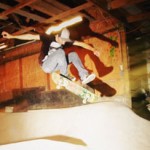 Like Shawn, Willy learned the embroidery business right out of high school and has been a machine operator in some of North Florida's largest operations.  At Great Atlantic his talents elevated him to become the manager and chief troubleshooter for our embroidery department.  As our primary purchaser, his attention to detail and ability to sniff out a bargain help insure our clients get the best prices possible on their apparel orders.  Outside of work, he is a skilled rider of skateboards and likes to play a variety of musical instruments.
Mike Whitaker – artist – est. 1995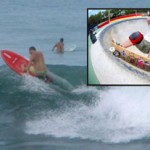 One of our oldest crew members, Mike is a highly skilled illustrator despite having no formal training.  Throughout his years he has seen t-shirt art go from hand cutting designs out of ruby film with an exacto-knife, to operating a graphic camera/darkroom, and finally reaching the digital age.  These days his primary focus is color separating customer supplied art and outputting film but he still produces high quality illustrations which translate into award winning t-shirt prints.  He is married to Pam and they have a son (who also seems to have an innate artistic ability) named Ian.  Mike is a regular at Kona Skatepark and is also a highly skilled surfer who travels to California and Costa Rica in his free time in search of great waves.
Mike Arnold – embroidery department manager – est. 2011
Mike previously worked in several California embroidery shops and joined us upon his return to his home state in 2011.  He manages the day to day operations in our embroidery department and specializes in running hats.  Away from work you will find him playing music.
Tammy Gilbert – embroiderer – est. 2004
Tammy is our high volume embroidery specialist who specializes in polo shirts and jackets.  She is an Ohio native and has three daughters.
Jeff Braswell – press operator – est. 2006
Jeff is our primary manual press operator and runs a high volume of small quantity orders.  He works hard throughout the year and relaxes with an annual trip to Amsterdam. RIP 2014
John Epps – production manager – est. 2010
John is a U.S. Air Force veteran who began working with us as a shipping/receiving clerk.  His strong work ethic and willingness to learn now finds him as our production manager who oversees all facets of our screenprint division.
Corey Meehan – press operator – est. 2010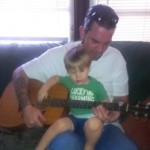 Corey typically shares a press with John and specializes in long runs.  He is an avid musician who has been a member of local punk rock bands.
Nathan Riley – press operator – est. 2011
Nathan is Shawn's son and specializes in running automated presses on our most complex full color jobs.  In his spare time he plays guitar in a metal band, operates a start-up clothing line, and enjoys getting tattooed.
Danny Pearson – press operator – est. 2014
Danny started at our entry level position folding shirts and packing boxes but his work ethic and attention to detail quickly found him a promotion to press operator.  He now runs one of our 3 automated presses which averages over 300 prints per hour.  He has recently brought his younger brother Tevin into our business and is teaching him the tricks of the trade.
Rotha Chann – press operator – est. 2017
Rotha also started at our entry level position folding shirts and packing boxes.  After a brief absence, he returned to Great Atlantic and his experience and work ethic elevated him to an automated press operator.  In his spare time he has developed a start-up clothing line specializing in Cambodian themed logos.
David Curry – screenmaking – est. 2010
David is in charge of recycling our screens to insure we have plenty of stock for a busy schedule.
Debbie Beeman – embroidery quality control/finishing – est. 2009
Debbie handles quality control for our embroidery operation and uses years of experience and a keen eye to make sure all logos are properly trimmed, folded, and packaged. RIP 2014
Parish Staley – shipping manager
Parish is a "jack of all trades" who has worked in several areas of our production operation including embroidery, screenprinting, and shipping/receiving.  In order to capitalize on her skillset she has been elevated to an accounts manager and insures client orders are processed accurately and efficiently.
Andrew Lassiter – accounts manager
Andrew is another of our customer service managers whose attention to detail helps insure client orders are processed accurately and efficiently.  He is married to Stacey and they have a newborn daughter Emilia.
Megan Sutton – artist/social media specialist
Megan studied graphic design and website design at Keiser for 2 years. She is passionate about bringing her creativeness to life through the websites she creates, and images she designs. Her hobbies are gaming, horseback riding, and going to comic conventions where she occasionally cosplays.