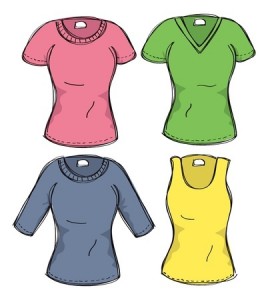 T-shirts are an excellent way to market your brand while reaching a large audience. T-shirts are practical and useful, and when one of your customers decides to wear one for the day, it means that everyone they come into contact with will see your brand. Since you want to make a positive impression on those who see your brand's t-shirt, it's only natural that you spend time deciding on the right colors, logo and design to print on the shirt. But, what are the fundamental basics of great t-shirt design in the first place? Let's take a look at some.
Hit Your Target Audience
A good t-shirt design catches the interest of your intended audience. So, start with the basics and identify who your audience is. Are they mostly male? Female? What are their ages? This will help you design a t-shirt that your audience will not only be attracted to but also will want to wear. For instance, if you own a computer repair company, you can run a campaign and target college students who prefer comfort and simplicity in their clothing.
Color is Key
Color is important in any design scheme, and t-shirts are no exception. The good thing about color in this sense is that you have a lot of room to work with so you can choose multiple colors without the shirt looking overpowering. Your audience may prefer bright colors, or they may want something more subtle. The trends are always changing, and today's trends include neutral colors that are balanced and minimal.
Wearability Factor
When you sit back and take a look at your design, ask yourself this question, "Would I want to wear this shirt?" Get feedback from others, as sometimes brands are too close to the product to offer objective feedback. If your t-shirt isn't good enough to wear in public, then your customers won't do so and you miss out on an efficient marketing tool that you thought you had. Not only does the design matter, but also think about the fit of the shirt, how comfortable it is and how well it will wash.
Details Matter
You may be tempted to go with the cheapest t-shirts possible, but remember that your promotional products speak volume to your customers. If you choose a cheap material that pills after the first wash, the t-shirt will get thrown into the bottom of the closet and never looked at again. It also tells the customer that you're not interested in spending money on these items. While you don't have to go overboard, do select a modest t-shirt quality that shows your customers you value their business.