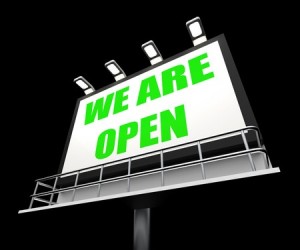 When launching a new business, an official grand opening gives you the opportunity to connect with potential customers, build brand awareness and increase sales. People can learn about your product or service and what makes your company worth a try. As effective as they are, grand openings are still pretty scary. You don't want anything to go wrong and leave a bad impression with customers, after all.
For these reasons, some business owners choose to have a soft opening. A soft opening is like a dry run of the grand opening. Business owners can diagnose and correct any problems that they foresee, and hold the soft opening without the pressure of having a large group of people. In fact, some industries require that businesses do a soft opening in order to proceed with a grand opening. Casinos are among them, as officials want to make sure that employees are taking the right precautions and handling money correctly.
As a small business owner, it's probably your choice as to whether or not you want to hold a soft opening, but the benefits generally speak for themselves. Being able to make sure that everything is in working order sets your grand opening up for success, and you can give everything a trial run without having a crowd of people under your feet.
Great Atlantic Outfitters works with new and existing companies, and we can help you with your soft opening and grand opening. We have wonderful promotional products that are creative, unique and affordable. They are a great reminder of your business and can help drive traffic, visibility and sales, especially in the early days when your business is just forming new connections.
We recommend that during a soft opening, you place out the promotional products and determine the following:
Is the quantity enough?
When are you planning to hand them out?
Will you use them to encourage customers to sign up for your newsletter, enter the raffle, play in a game, etc?
Do you feel that the items accurately represent your brand? Your logo?
Do you have a plan for leftover promotional items?
Get your business off to a great start by doing a soft opening. You'll be glad you did!